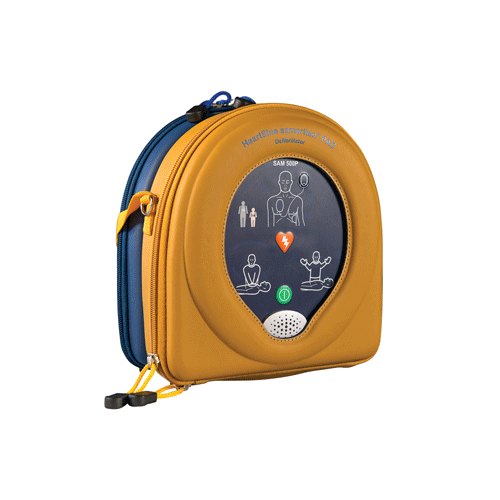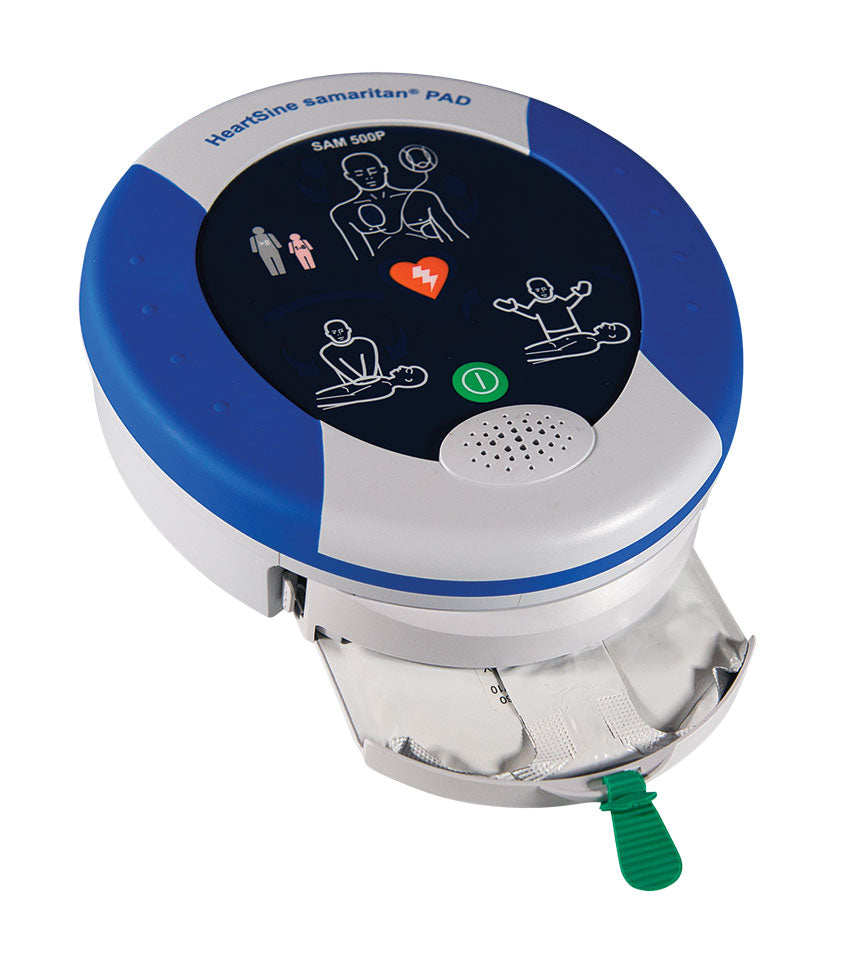 HEARTSINE Samaritan 500P Semi-Automatic Defibrillator
Sale price
$2,595.00
Regular price
$2,995.00
Estimated Delivery:Dec 20 - Dec 24

Order Tracking: We'll send you updates on your order.
HEARTSINE Samaritan 500P Semi-Automatic Defibrillator
Sale price
$2,595.00
Regular price
$2,995.00
Product description
Product reviews
Payments & Delivery
About AERO
The HeartSine Samaritan 500P public access defibrillator with CPR advisor technology reigns without a rival!
8-year warranty (the longest in the industry)
World Leading CPR Advisor
Semi-Automatic Shock Delivery
Easy to Follow Visual and Verbal Guides
Durable
Advanced Technology
Single Battery/Electrode in one replaceable cartridge
In making a decision as to which Automated External Defibrillator (AED) to purchase, you need to carefully consider the 4 links in the internationally accepted chain of survival – otherwise your investment might be an unwise one. These links are:
Early Access – (i.e. someone has to be there to help)
Early CPR
Early Defibrillation
Early Advanced Care – (i.e. the victim needs to receive hospitalisation).
In the case of Sudden Cardiac Arrest, good CPR is so important to maintain the supply of oxygenated blood to the brain and other organs, as the first Defibrillator shock from any AED will not always bring about a return of spontaneous circulation.
About 70% of all CPR is ineffectively performed, so the HeartSine Samaritan 500P Defibrillator contains technology that determines whether your compressions are effective, electrically through the defibrillation pads.
Not only will voice prompts guide you through the process of defibrillation, but this device will tell you to "Push Harder" or whether you are doing "Good Compressions" during CPR – all based on real cardiac output (real blood flow).
Especially designed for use in public areas, the HeartSine Samaritan® PAD 500P is a sophisticated semi-automatic defibrillator for adult or paediatric use, inside a lightweight and easy-to-operate system. The SAM 500P is a defibrillator designed to analyse heart rhythm and automatically deliver an electrical shock (if needed). Its advanced technology is balanced against the demands of effective CPR in real-world use.
The SAM 500P also uses HeartSine's practical Pad-Pak™, which incorporates the battery and electrodes in a quick to replace single-use cartridge – meaning only one expiration date to monitor and only one item to replace after use. The SAM 500P is suitable for use on adults and children. For children younger than 8 years or weighing less than 25 kg (55 lbs), a Pediatric-Pak™ is available.
Free replacement Pad-pak after genuine use (conditions apply)
IP56 Dust and Moisture ingress protection – the highest in the industry
CPR Advisor for real-time feedback on the effectiveness of your compressions
Software updates via USB
Made in Ireland by the inventors of the first portable defibrillator
Investing in an AED is a great step forward because it can increase the chance of survival for witnessed Cardiac Arrest from 5% to 85% – when combined with the other links in the chain of survival. But most models on the market will leave you vulnerable on your ability to ensure good CPR. Even AED's that claim to have CPR feedback technology do not have the ability to determine the effectiveness of your compressions – they simply are basing the feedback on how hard you are pushing. Now, unfortunately, there is a huge difference from individual to individual, inappropriate force and pressure required to perform effective compressions.
With the HeartSine Samaritan 500P Defibrillator's world-leading CPR advisor technology, you make every second of your rescue efforts count. There are people alive today that have been saved by the 500p… and others who have the comforting knowledge that they did everything they could.
Register your Product Warranty Here.
Payments
Payments using a credit or debit card
Orders can be paid for quickly and easily using a credit/debit card at the checkout page. All major credit/debit cards are accepted.
Payments using a purchase order (PO Number)
Schools and other educational institutions can place their order using a purchase order at the cart and checkout page. There is no need to request a credit account. The shipping address must match the billing address of the school. A tax invoice will be emailed and a hard copy sent with the order.
Hospitals and clinics with approved credit accounts can place their order using a purchase order at the cart and checkout page. Contact us today to request a credit account if you do not currently have one. The shipping address must match the billing address of the hospital or clinic. A tax invoice will be emailed and a hard copy sent with the order.
Delivery
To get your order to you as fast as possible, orders placed before 12pm (AWST) are fulfilled the same business day and any orders placed after 12pm (AWST) are fulfilled the next business day unless specified above.
Delivery costs are based on weight. Just add products to your cart and use the Delivery Calculator on the cart page to see the costs. Delivery cost starts at $14.96 and is capped at $22.00
Typically delivery times are 2-4 business days, however larger/heavier shipments may take a little longer. If you require an urgent delivery please contact us prior to placing your order and we may be able to offer a custom delivery option.  
We utilise multiple couriers, including Australia Post, Star Track, TNT/FedEX, and Fastway/Aramex to provide you with the fastest delivery times.
International Delivery
We can ship internationally, please contact us prior to ordering online as this service will have a custom shipping price for your location.
Medichill know that supporting Australian businesses and manufacturing is important to our customers, and like Medichill, Aero Healthcare is 100% Australian owned and operated.
Aero's underlining passion for innovation, product development and product quality, is the reason why we at Medichill partnered with Aero to supply you with trusted first aid consumables and first aid kits, with the perfect balance of price and quality. Medichill don't just sell Aero's products, we trust and use them too. All of our first aid kits in our offices, warehouse and company vehicles are Aero's products.
Aero Healthcare products are manufactured to international quality standards governed by ISO13485:2003.